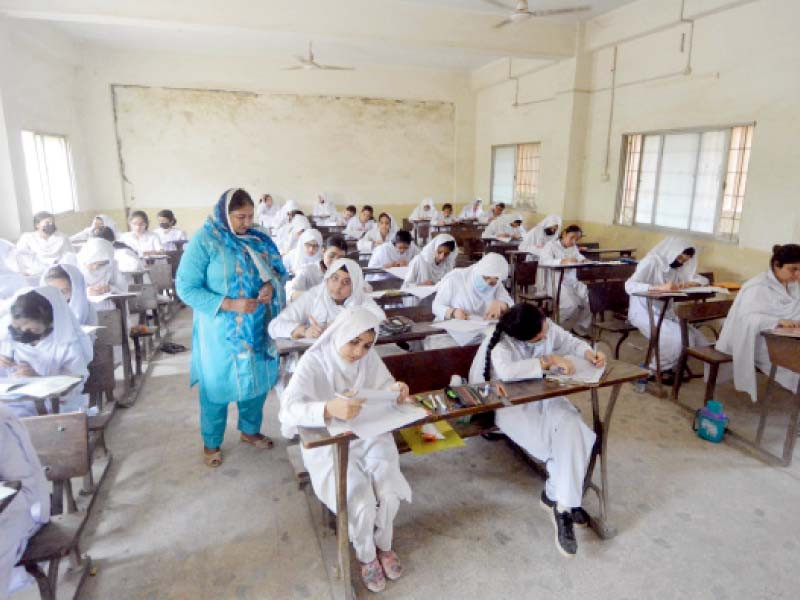 ---
KARACHI:
The imminent threat of Cyclone Biparjoy and the expected torrential downpour have prompted authorities to postpone intermediate and university examinations, resulting in the closure of educational institutions in Karachi.
On Tuesday, the Commissioner of Karachi issued a notification, calling for the postponement of all educational activities, summer camps, and seminars in light of the cyclone and heavy rain forecasts.
As a consequence, the Higher Secondary Education Board has rescheduled all exams that were originally planned for the 14th and 15th of June. The board management will announce the revised dates for the postponed exams at a later time. Students and educational stakeholders are advised to stay updated through official channels for the new examination schedule.
Karachi University (KU) has also taken precautions in response to the cyclone. The university announced the closure of all its departments and the suspension of educational activities scheduled for Wednesday, the 14th of June.
Also read: Dust storm hits Karachi as Biparjoy barrels towards Sindh's coastline
Furthermore, all exams that were supposed to take place on the same day have been postponed until further notice. KU's representative urged students to stay safe and informed about any further developments through official university channels.
Cyclone Biparjoy, which initially formed over the Arabian Sea earlier this month, has intensified and is now categorized as a Very Severe Cyclonic Storm. It currently lies approximately 410 km off the coast of Karachi. The cyclone's progression and intensity are being closely monitored by meteorological authorities.
In addition to the cyclone's approach, Karachi experienced a dust storm earlier in the day, leading to disruptions in traffic and daily activities. Recognising the potential dangers associated with the cyclone, the government has initiated evacuation efforts, aiming to relocate 80,000 individuals from vulnerable areas. The army has been mobilised to assist in the evacuation process, ensuring the safety of residents.
As the city prepares for the impact of Cyclone Biparjoy, authorities are emphasising the importance of preparedness and caution. Residents are urged to follow official announcements and guidelines, taking necessary precautions to safeguard themselves and their belongings.
COMMENTS
Comments are moderated and generally will be posted if they are on-topic and not abusive.
For more information, please see our Comments FAQ