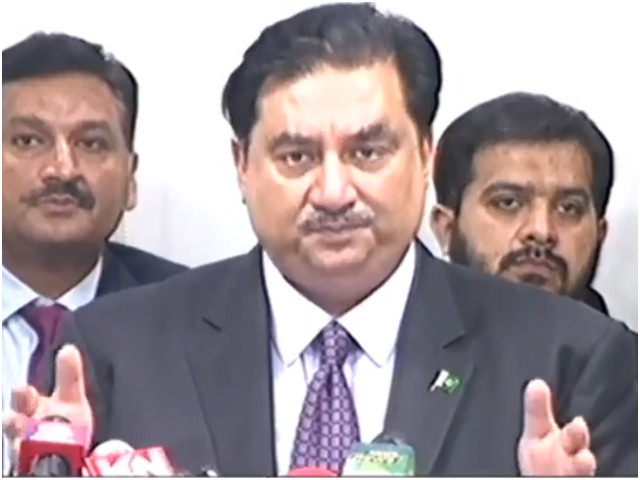 ---
ISLAMABAD:
Power Minister Engineer Khurram Dastgir on Wednesday said all necessary arrangements had been finalised to cope with the possible impact of Cyclone Biparjoy in the coastal areas of the country.
Addressing a news conference, the minister said currently there was no power disruption in the country due to the cyclone. However, they were fully prepared to cope with the effects of the cyclone, he added.
"In the wake of last year's flood, our teams including the NTDC (National Transmission and Despatch Company) did an exemplary job and restored the transmission system in record time in Sindh, Khyber-Pakhtunkhwa and Balochistan," he said.
"Three senior officials of the ministry have also been deputed, one each in Mirpurkhas, Karachi, and Hyderabad to supervise the operation," he said, adding that he was going to Karachi along with the power secretary to personally monitor the entire situation.
He said five power distribution companies – Gujranwala Electric Supply Company (Gepco), Lahore Electric Supply Company (Lesco), Faisalabad Electric Supply Company (Fesco), Multan Electric Power Company (Mepco) and Sukkur Electric Power Company (Sepco) – had also been activated to provide support to the Hyderabad Electric Supply Company (Hesco) for restoration of electricity in case of power disruption.
On the directives of the prime minister, 2,000 employees from these Discos were being dispatched to the coastal areas to provide support to Hesco for power supply restoration in case of power suspension.
The minister said the Cyclone Biparjoy had disrupted the Regasified Liquefied Natural Gas (RLNG) supply, causing a temporary reduction in RLNG-based power generation and a temporary increase in load shedding.
The minister said that shipping to the RLNG terminals had stopped, which also caused suspension of gas to K-Electric, Bahadar Shah and Bikki power plants. The consumers could face one hour additional power load management for next four days – June 15-18, he said.
He said that water discharge from Tarbela Dam had also been enhanced to generate additional electricity. "Power plants based on expensive fuel can also be run if need be," he said.
To a question, the minister said there was no major disruption from coal-based power plant so far. However, he added that the cyclone could affect the power transmission system in coastal areas.
He said the government had diverted gas to the power plants and the K-Electric to minimise the possible power shortfall. To another question, he said two to four hours maximum power load shedding was being carried out in urban areas as per losses.
He said some 5,000 megawatts electricity had been added to the system from various projects, including the Thar coal, K-3 Nuclear and Hydel projects. APP
COMMENTS
Comments are moderated and generally will be posted if they are on-topic and not abusive.
For more information, please see our Comments FAQ