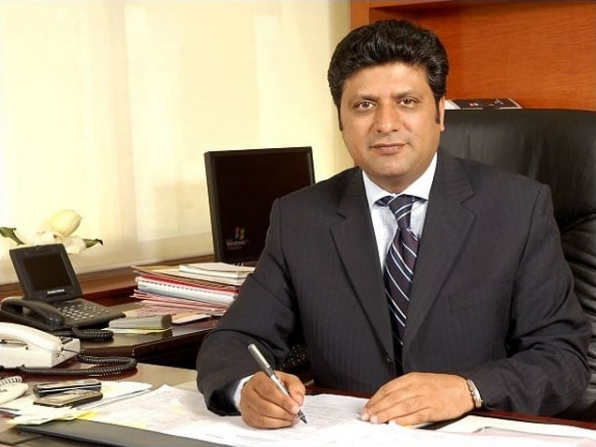 ---
ISLAMABAD:
Prime Minister Shehbaz Sharif has accepted the resignation of National Database and Registration Authority (NADRA) Chairman Tariq Malik, who was facing charges of corruption during the purchase of the Iris recognition system.
The National Accountability Bureau (NAB) summoned Malik on June 6, seeking procurement records of the IRIS system, $3.5 million in payments, PC-1 as well as related tenders and newspaper advertisements.
NAB also wanted to review the details of rules and regulations provided by NADRA to its contractors. It was also reported that the Federal Investigation Agency (FIA) imposed a travel ban on Malik, preventing him from leaving the country until the completion of the investigation.
According to a NADRA spokesperson, Malik submitted his resignation to the premier during a meeting with him held at the PM House.
The spokesperson added that PM Shehbaz appreciated the services of Malik as the NADRA chairman.
The prime minister voiced hope that Malik would continue to play his role in the development and prosperity of the country in the future.
After the meeting, Malik issued a statement wherein he maintained that he had introduced more than 45 innovative services and facilities during his two-year stay at the helm.
He added that the UN had recently appointed him as the head of the technical advisory committee of the 'National Human Development Report 2023' to be prepared for the digital revolution in Pakistan.
Malik continued that this was not only an honour for him but provided him with an excellent opportunity to advance his mission.
Apart from this, he would continue to play his role in strengthening parliament in Pakistan by advancing the activities of the Sustainable Development Goals (SDGs) from the UN platform.
Read NADRA launches 'cutting-edge AFIS technology' for biometric identification
Through Zindagi Trust, he would improve the situation of children in the country.
While talking to The Express Tribune, Malik said that political polarisation was not mentioned in relation to the incumbent government, as "there is no pressure on me and any such impression is wrong".
"It is written in my resignation that the projects received by the United Nations are to be covered by staying in Pakistan and I also have to run the trust.
"I am satisfied with the government of Pakistan and the prime minister. The PM has read my resignation and appreciated it."
Malik maintained that he was in the country and had no intention of going abroad, saying: "I also have to complete the United Nations project while staying in Pakistan."
In his resignation to the prime minister, a copy of which is available with The Express Tribune, Malik cited a "politically charged and polarised environment" as a hurdle in his work.
"While it has been an absolute honour to lead NADRA, to have connected with so many wonderful individuals and institutions, and to have learnt so much, I find it increasingly difficult to work in a charged and polarised political environment," he wrote.
He said it is difficult for any professional to maintain their integrity and independence in an environment that constantly pigeon-holes people in an "us versus them" logic and where political loyalty is privileged over competence.
"As you might know, I come from a humble family of academics whose loyalty to Pakistan is beyond reproach. My values are more important than compromises that are expected of me. Irrespective of whether Party X, Y, Z is in power, I have tried to serve all incumbent governments with dignity and grace. I have made honest representations on behalf of NADRA to various select committees in parliament. Whether a parliamentarian belongs to the treasury or the opposition bench, I have served all legitimate concerns of different stakeholders," the resignation read.
He also urged the prime minister not to appoint a serving or retired bureaucrat to the post of NADRA chairman.
"The organisation deserves a thorough professional with a background in technology and management. In 2013, Pakistan was light years ahead of India's Aadhaar experience. However, despite being a leader in the field, the lack of a consistent and coherent approach to dealing with this critical national organisation has left us trailing behind," he added.
He wrote that NADRA could not afford further "political experimentation" and needed to be protected as one of Pakistan's island of excellence.
Malik stated that when he was called up to assist the Election Commission of Pakistan (ECP), he worked with all political stakeholders irrespective of their background.
"I wrote letters to over 300 political parties and opened the doors of NADRA for them to see how [the] voter list is made with the ECP in presence. I fundamentally believe in the transformative power of inclusive institutions that outlive persons and parties," he continued.
Malik said that it was becoming increasingly difficult to maintain the important balancing act in the current politically charged environment.
"I would, therefore, like to be relieved of my duties as the chairman of NADRA. Please accept this letter as a notice of my resignation," he stated.
COMMENTS
Comments are moderated and generally will be posted if they are on-topic and not abusive.
For more information, please see our Comments FAQ