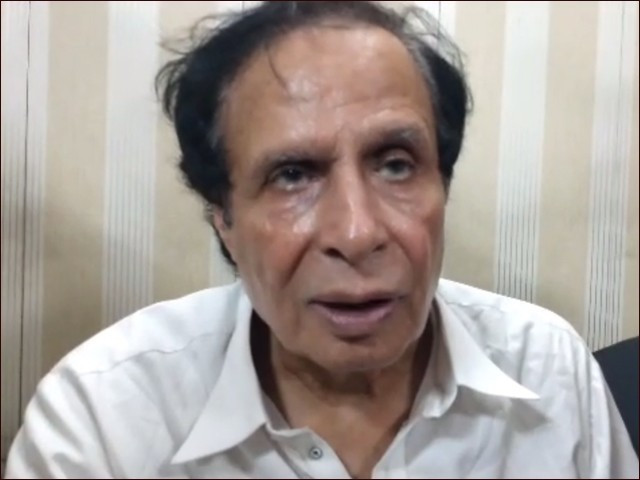 ---
LAHORE:
Former Punjab chief minister and Pakistan Tehreek-e-Insaf (PTI) Central President Chaudhry Pervaiz Elahi on Tuesday said he was being kept in a small room in the prison for the past 10 days where his health has deteriorated.
"I am unwell and for 10 days I have been locked up in a tiny room," he told journalists ahead of his hearing at a local court in Lahore. "The fan in the room malfunctions," he added "and I am not being permitted to meet my family."
Upon a journalist's question about his possible plans to leave the PTI, Elahi said "I am not being allowed to meet anyone, how could I hold a press conference?"
Read Court grants Qureshi bail in May 9 vandalism case
"I am not even being permitted to speak with media persons here," he exclaimed.
"Do you see what condition I am in over here," the former CM said.
Meanwhile, the police blocked the media from entering the courtroom and pushed journalists away. SHO Shabia Raza said that journalists will not be allowed inside the court under any circumstances.
The Anti-Corruption Establishment (ACE) with the help of Punjab Police had arrested Elahi earlier this month.
Caretaker Information Minister Amir Mir had confirmed Elahi's arrest, saying he was in his vehicle and "trying to flee" when he was arrested.
Subsequently, the former chief minister was sent to prison on June 4 for a 14-day judicial remand by a judicial magistrate in Lahore
Days later, he was taken to the Punjab Institute of Cardiology (PIC) after his health deteriorated in prison.
Doctors at the PIC had conducted Elahi's medical tests on complaints of chest pain. He was later shifted back to prison.
COMMENTS
Comments are moderated and generally will be posted if they are on-topic and not abusive.
For more information, please see our Comments FAQ