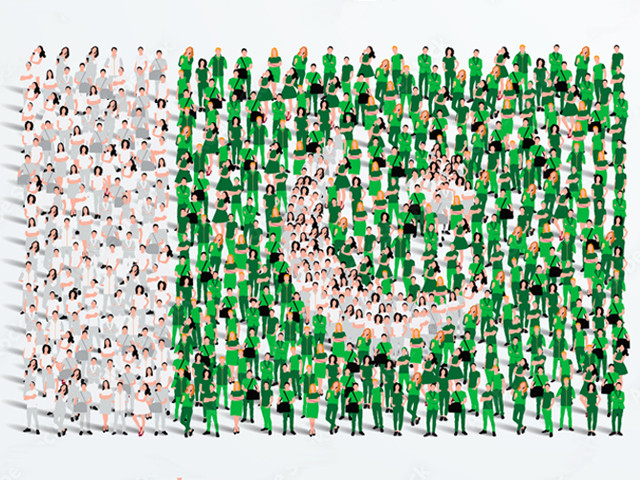 ---
Pakistan's first-ever digital census: A step in the right direction
Whether the census is conducted manually or digitally, we in Pakistan always distrust and question its outcome.
---
The 2023 digital census is a step in the right direction. The purpose of the census is to provide data for informed policy planning for the people living in particular areas so that required resources can be provided for the provision of basic necessities such as schools, hospitals, roads etc. If this data is collected manually, there is a high probability that the data will have ambiguities.
Whether the census is conducted manually or digitally, we in Pakistan always distrust and question its outcome. These dissecting voices, unfortunately, make the whole exercise uncertain. In 2017, the sixth population census in the country was held after a gap of over two decades due to the fear that census results may create disharmony in the country. It is good to know that the government decided to organise the seventh census as per schedule. It is interesting to know that the digital census conducted in Pakistan is the largest digital census in the whole of South Asia.
The first-ever digital census of Pakistan is being conducted using 126,000 android-based smart devices equipped with House Listing and Enumeration Applications synchronised with Global Positioning System (GPS) and Geographic Information System (GIS) to facilitate collection, compilation, analysis, evaluation, publishing and dissemination of statistical data regarding the population and housing along with their geographical location. This ensures the utmost accuracy, transparency and credibility of the exercise. The latest digital technology used in this census includes geo-tagging, which helps in counting and provides accurate data on schools, hospitals, mosques, universities and other economic establishments, along with demographic variables for evidence-based decision-making. This digitisation exercise is of unique nature, and its success can be gauged from the fact that data of almost 10 million nationals is collected daily from all parts of the country and synced to secure servers.
The Pakistan Bureau of Statistics (PBS), the organisation responsible for conducting the census, worked hard and upgraded itself in a short span of time in order to digitally transform itself and the census system.
The world we are living in is changing fast. A lot of the work and tasks that were done manually are now automated and performed by machines, be it construction, record-keeping, disbursement of information and others. To remain at par with global players, Pakistan also needs to move towards the path of digitisation and shun manual work. If we look around, we find that Dubai, a city of over three million people, has completely shifted to digitisation. Emirate's Crown Prince, Sheikh Hamdan bin Mohammed bin Rashid Al Maktoum pointed out that this step allows saving $350 million and 14 million work hours.
Dubai is the world's first capital to go 100% paperless, and many other countries in Europe and America are also following suit. Digitisation, in my view, is an efficient and reliable option, and it is the path to embrace the future.
Pakistan is also making an effort to move towards digitisation in various aspects, however the pace is painstakingly slow. One reason for this is that we as a nation are hesitant and, at times, also suspicious towards technology and prefer to remain stuck in decades-old practices. People from different walks of life raise their concerns waywardly without identifying the actual issue with the latest technology. In this scenario, I am delighted and excited to observe that the PBS made a move by making the seventh census of Pakistan the first-ever digitally-conducted census of Pakistan.
The PBS first opened a digital portal where citizens were able to fill in their information from the convenience of their homes. This data is then verified by the PBS staff going door to door to collect and corroborate data. In my view, the PBS was unable to give proper knowledge about self-enumeration, and for this reason, the majority failed to take advantage of this facility. As the digital census moves forward and reaches the final stage, we will get more clarity about its success or failure. Irrespective of the result, I would prefer that in the future, we continue on this path and gradually move towards a paperless census.
I strongly believe that for the future of Pakistan and its population, a digital census will go a long way in collecting error-free data, which will then be used in letter and spirit to bring prosperity to the people of Pakistan.