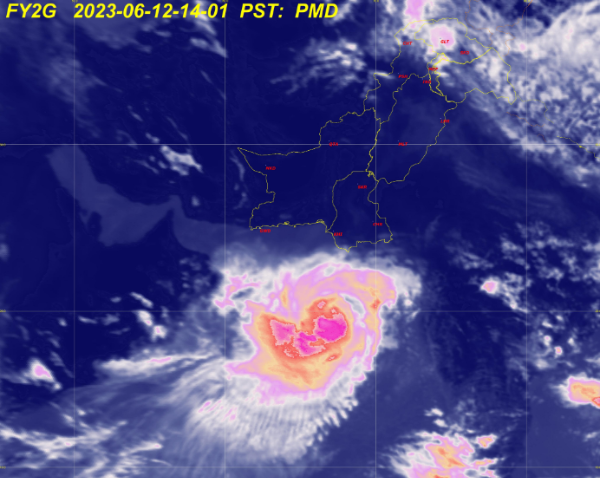 ---
KARACHI:
Authorities in Sindh on Monday began an evacuation effort to move 80,000 people out of the path of an approaching cyclone, which is expected to bring winds of up to 120 kilometres per hour.

The cyclone is making its way across the Arabian Sea towards the coastlines of Pakistan and India, forecast to make landfall later this week. Swathes of coastal communities in Sindh are set to suffer storm surges up to 3.5 metres (12 feet), which could inundate low-lying settlements, as well as up to 30 centimetres of rain.

Sindh Chief Minister Murad Ali Shah said an emergency has been declared and the army drafted in to help relocate "more than 80,000 people" at risk. "We will not request people but demand them to evacuate," Shah told reporters while addressing a news conference at the CM House, adding that the order was being issued through social media, mosques and radio stations.

The chief minister said around 32,466 people in Sujawal, Badin and Thatta districts and residents of 70 dangerous buildings in Karachi were ordered to move to safer places. "We are going all-out to shift the affected people to safe and secure areas," he told the media and added the relevant authorities are also directed to take down billboards, signboards and other weak structures to avoid any untoward incident."

He said that the cyclone over the East-Central Arabian Sea has further moved northward and added that under the influence of upper-level steering winds, it was most likely to track further in the north-northeast direction towards Southeast Sindh-Indian Gujarat coast.

Shah, while quoting the PDMA and Met Office reports, said, "Now the cyclonic storm lies near Latitude 19.5°N & Longitude 67.7°E at about 600km south of Karachi, 580km south of Thatta and 710 km southeast of Ormara.

He said maximum sustained surface winds were estimated at 160-180km/hour gusts around the system center and maximum wave height was calculated at 35-40 feet.

"The favorable environmental conditions (sea surface temperature of 30-31°C, low vertical wind shear and upper-level divergence) are supporting the system to maintain its intensity," the chief minister said and added that under the existing upper-level steering winds, the cyclone would most likely track further northward until June 14 morning, then recurve northeastward and cross between Keti Bandar and Indian Gujarat coast on June 15 afternoon.

Talking about the impact of the storm, Shah said that with its probable approach to the southeast Sindh coast, widespread wind-dust/thunderstorm rain with some very heavy/extremely heavy falls accompanied by squally high-intensity winds of 80-100km/hour likely in Thatta, Sujawal, Badin, Tharparkar and Umerkot districts during June 13-17.

Shah added that dust/thunderstorm rain with a few heavy falls and accompanied by winds of 60-80km/hour are likely in Karachi, Hyderabad, Tando Muhammad Khan, Tando Allahyar, Mirpurkhas districts from June 14-16.
He said that the winds may cause damage to loose and vulnerable structures such as kutcha houses and solar panels.

Quoting the PDMA and MET office reports, the chief minister said that a storm surge of three to five meters or 8-12 feet was expected at the land falling points such as (Keti Bandar and around).

Therefore, he said, that with the help of the district administration, navy and army, fishermen have been called back from the sea and have been directed not to go fishing.

A spokesman for the Sindh chief minister said around 2,000 people have already been evacuated to "safe places" from the area of Shah Bandar. However, in the nearby village of Gul Muhammad Uplano, authorities struggled to persuade families to leave.

"We will become helpless in the government camps, that is why we are better off at our own place," said 46-year-old Gul Hasan. The Pakistan Meteorological Department has warned that traditional mud and straw homes will be vulnerable to disintegration in high winds.

But in the settlement of Haji Ibrahim, a cluster of such structures, fisherman Abu Bakar said concerns over losing their livelihoods prevail. "Our boat, goats and camels are our assets," the 20-year-old said. "We cannot compromise on their safety."
"But if the danger becomes imminent, we will be forced to leave to save our lives," he conceded.

Provincial lawmaker Muhammad Ali Malkani told AFP a decision had been made to evacuate the population living up to eight kilometres inland.

Karachi is also due to be deluged by dust and thunder storms with winds whipping up to 80 kilometres per hour.
Billboards will be removed and 70 vulnerable buildings evacuated in the city, while construction will be stopped over the entire affected area.
COMMENTS
Comments are moderated and generally will be posted if they are on-topic and not abusive.
For more information, please see our Comments FAQ