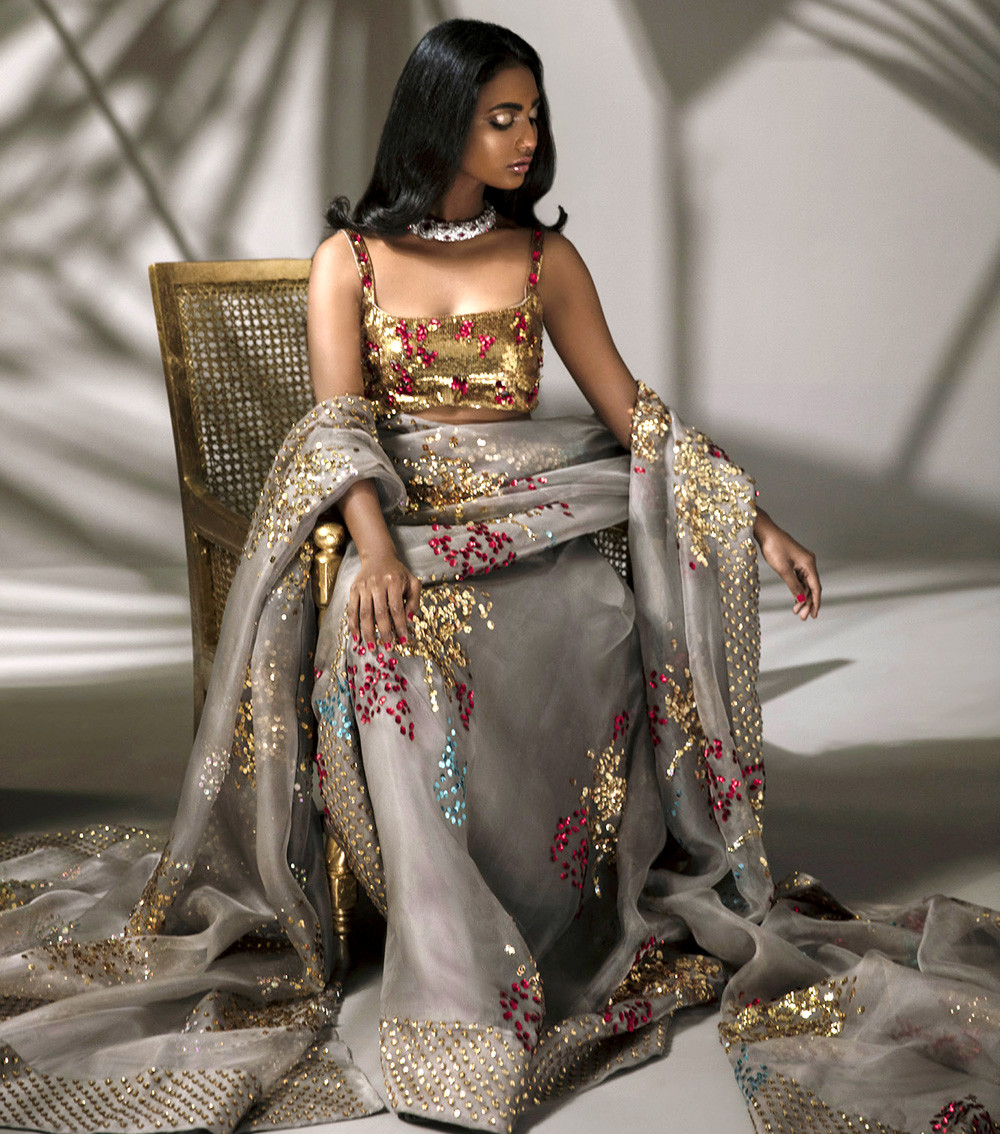 ---
MUSE is a contemporary womenswear, menswear, and accessories fashion line. Their passion is creating beautiful and luxurious pieces using the finest fabrics. They combine them with sleek, modern designing, and a hand embroidering tradition that goes back centuries.
The idea for MUSE was born in Paris, with a desire to create a new aesthetic by taking a strong tradition of intricate hand embroidery, and combining it with sleek, modern designing to produce a contemporary mixture of fashion, luxury, and art that would resonate internationally.
Night Flower is a MUSE sari collection. Each sari is named after a flower that only blooms at night, fragrant and illuminating light under the shimmering stars.
The Night Blooming Jasmine
The Night Blooming Jasmine sari shares its beautiful aromatic promise after dark. This Taupe Grey organza sari has a stunning gold and emerald border, set with freshwater pearls. The gold spray of sequins on the seven yards compliment the gold blouse set with large Swarovski iridescent crystals. This gold and grey beauty is a promise of glamour and sophistication.
The Moon Flower Sari
Hand embellished with a border of gold and neon pink French sequins; this sari is a heavenly vision at night. The gold blouse is set with green Swarovski crystals that reflect a purple light after hours. The organza sari is sexy and majestic.
The Queen of the Night
This emerald sheer sari is embellished with rows of gold sequins for mesmerizing shine. The gold blouse is set with Swarovski crystals and worn as a precious statement.
The Evening Rain Lily
The Evening Rain Lily sari in Steeple Grey is hand embellished with French sequins in Rose Red and Turquoise. The gold blouse and shimmering dupatta with this stunning sari complete the glamorous look for the evening.
The Night Scented Orchid
The night scented orchid radiates light and glows under the moon and stars. This sheer Dusty Pink sari comes with embellished oversized gold flowers set with crystals. The delicately embellished blouse is an armour of gold, highlighted with French sequins and Red Swarovski crystals. This sari is regal, sexy and sophisticated for glamorous nights.
COMMENTS
Comments are moderated and generally will be posted if they are on-topic and not abusive.
For more information, please see our Comments FAQ