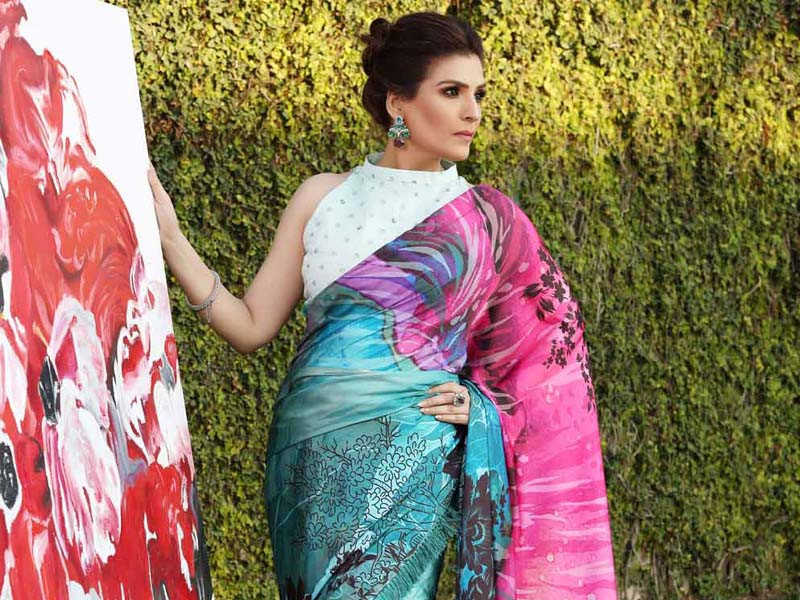 ---
Infinitely glamorous and the epitome of classic elegance is what the brand Nayab stands for. Presenting Jahan Ara- an exclusive edition of luxury unstitched sari collection. Eight beautiful designs crafted from the highest quality of organza, charmeuse silk and khaddi slub silk featuring sophisticated print in bold and pastel hues. The collection landscapes an array of ornamental embroideries, meticulously rendered stitch by stitch further adorned with 3D hand done embellishments utilizing pearls, crystals, sequins and zardozi work.
TIYA
Layers of printed butter cream Charmeuse satin silk reminiscent of Italian gardens set the base for modern day ensembles. The blouse is decorated with thread and sequin work embedded with heavy handwork incorporating pearls, crystals, beads and sequins; perfect for any evening soirée.
Kayseriya
Like a secret garden,exquisite flora stretch out on a warm ochre canvas with hints of coral, tangerine and salmon peaking out in a perfect harmony in 'Kayseriya' is framed with a scalloped border. The sari is paired with an elaborated blouse with detailed tilla and Resham work laden with 3D handwork in pearls, crystal, sequin and beads.
Mira
Delicately crafted digitally printed 'Mira' features blooming florals layered over a soft coral canvas to create an awe-inspiring, glamourous look with accents of ivory, black and moss. The artsy print is paired with sumptuous organza blouse expertly illustrated with vivid floral embroidery, Intertwining the essence on the diaphanous fabric of organza 'Mira' features intricate handcrafted blouse luxuriously laden with iridescent sequin,sparkling crystal, ribbon rosettes and oyster pearls creating an ethereal impact. This stately look is a must have!
Dhanak
A classically elegant look with a unique, Elysian colour palette, featuring French floral patterns that meander across a blush pink canvas in shades of crimson, soft sea foam, moss, ivory and marvelous pink, framed with embroidered sequins embellished border. The sari is paired with salmon pink blouse with delicate dainty embellishments, this stunning ensemble features hand placed sequin, crystal, pearls and zardozi work creating a magical composition.
MEHKA
Luminous ornamental paisley and floral print laid out in the shades of ivory and charcoal grey with tinges of moss and salmon pink to accentuate the overall composition. A printed charmeuse silk sari is effortlessly draped and paired with a heavily embroidered blouse. The sleeves of the blouse are hand embroidered with matching sequins, crystals, pearls and beads. The unique and versatile ensemble is perfect for the seasonal festivities..
JAIPUR
In an elegant ode to tradition, a beautifully crafted sari, rendered in charcoal grey, is intricately embellished with handmade mukesh. The sari is laced with a silver border highlighted with sequins and tilla. The flowing saree is paired with a heavily embroidered blouse with a lush encrusted border; this look is reminiscent of royal regalia and perfect choice for any formal occasion.
AYRA
Exude exquisite feminine grace in the marine life 'Ayra', depicting vivid hues of aqua's with dashes of cerulean, azure, crimson and amethyst on plush satin silk. Stunning corals and sensual flora come together in an explosive composition making this the perfect stand out look. The sari is paired with a soft aqua blue blouse with delicate embroidery and intricate handwork embedded with sequin and crystals.
ASHNA
A dreamy composition is etched with great finesse and detail onto a deep Amaranth pink canvas in varying shades of mauve pink. 'ASHANA' Is further accentuated with shaded sequin and bead work to create a masterpiece that will stand out in every formal and festive gathering. It's paired with an embroidered blouse worked with shades of metallic silver tilla and sequin.
COMMENTS
Comments are moderated and generally will be posted if they are on-topic and not abusive.
For more information, please see our Comments FAQ