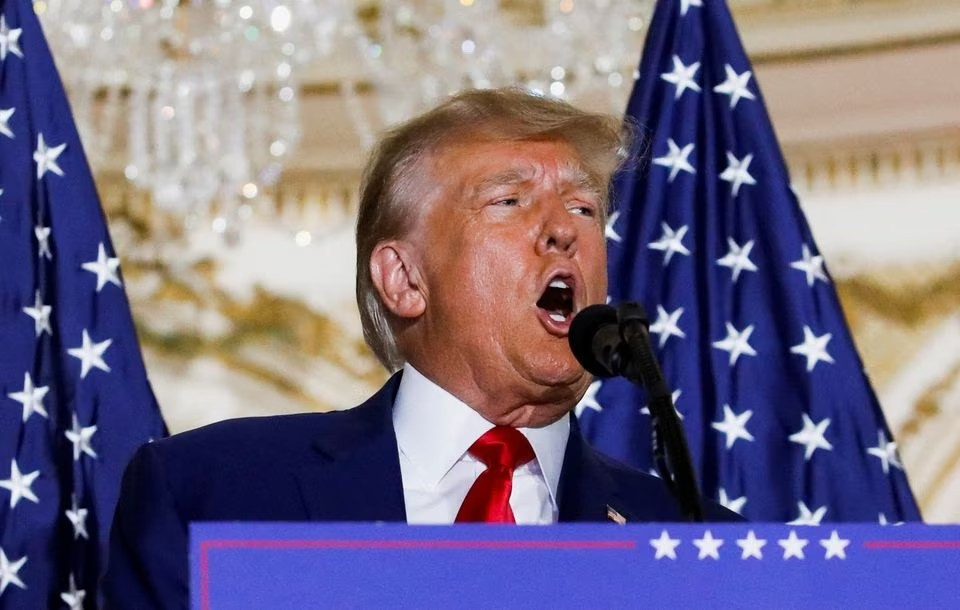 ---
MIAMI:
Former US President Donald Trump was in custody at a Miami courthouse on Tuesday to face criminal charges that he unlawfully kept national security documents when he left office and lied to officials who sought to recover them.
Trump was due to submit a plea at an arraignment before US Magistrate Judge Jonathan Goodman that was closed to cameras and live broadcasts. His former aide Walt Nauta, also charged in the case, appeared in court as well.
It was the second courtroom visit for Trump in recent months. In April, he pleaded not guilty to state charges in New York stemming from a hush-money payment to a porn star. Tuesday's appearance in Miami was on federal charges.
Supporters wearing Make America Great Again hats and carrying American flags chanted "Miami for Trump" and "Latinos for Trump" as the motorcade paused outside the courthouse. A man could be heard chanting, "USA! USA!"
Miami Mayor Francis Suarez told reporters outside the courthouse that there had not been any security problems.
Read more: Trump is 'toast' if classified records case is proven, ex-AG says
Authorities had braced for crowds of up to 50,000 people and prepared for possible violence, recalling the Jan. 6, 2021, attack on the US Capitol.
Trump has repeatedly proclaimed his innocence and accuses Democratic President Joe Biden's administration of targeting him. He called Special Counsel Jack Smith, who is leading the prosecution, a "Trump hater" on social media on Tuesday.
Smith accuses Trump of risking national secrets by taking thousands of sensitive papers with him when he left the White House in January 2021 and storing them in a haphazard manner at his Mar-a-Lago Florida estate and his New Jersey golf club, according to a grand jury indictment released last week.
Photos included in the indictment show boxes of documents stored on a ballroom stage, in a bathroom and strewn across a storage-room floor.
The indictment alleges Trump lied to officials who tried to get them back. The indictment of a former US president on federal charges is unprecedented in American history.
The indictment also alleges Trump conspired with Nauta to keep classified documents and hide them from a federal grand jury. Nauta, who has worked for Trump at the White House and at Mar-a-Lago, was due to appear with Trump.
Republican voters, rivals line up behind Trump
Recent events have not dented Trump's hopes of returning to the White House. After his arraignment Trump was due to fly from Miami to his New Jersey golf club, where he was scheduled to speak.
Also read: What is the Espionage Act and what might it mean for Trump?
Nor have Trump's legal woes hurt his standing with Republican voters.
A Reuters/Ipsos poll released on Monday showed Trump still led rivals for the Republican nomination for the 2024 presidential election by a wide margin, and 81% of Republican voters viewing the charges as politically motivated.
"I never imagined that I was going to witness this. It's unbelievable," said a woman who gave her first name as Esperanza who carried a sign that read "I Stand With Trump" outside the courthouse.
Most of Trump's Republican rivals for the nomination have lined up behind him. Vivek Ramaswamy, one of those candidates, told the crowd that he would pardon Trump if he were elected.
Other Republican candidates have accused the FBI of political bias and some have called for its dissolution, in a sharp turn from the party's traditional support for law enforcement.
National security secrets
The 37-count indictment includes violations of the Espionage Act, which criminalizes unauthorized possession of defense information, and conspiracy to obstruct justice, which carries a maximum sentence of 20 years in prison.
Legal experts say the evidence amounts to a strong case, and Smith has said Trump, who will turn 77 on Wednesday, will have a "speedy" trial.
The judge assigned to the case, Aileen Cannon, was appointed by Trump in 2020 and issued a ruling in his favor during the investigation last year that was reversed on appeal. Goodman, the magistrate judge, was assigned to Tuesday's hearing but is not expected to play an ongoing role in the case.
Experts say it could be a year or more before a trial takes place, due to the complexities of handling classified evidence.
Trump's lawyers could file a blizzard of motions to challenge Smith's case before it reaches trial, which would lead to further delays.
In the meantime, Trump is free to campaign for the presidency and could take office even if he were to be found guilty.
Trump accuses Biden of orchestrating the federal case to undermine his campaign. Biden has kept his distance from the case and declines to comment on it.
COMMENTS
Comments are moderated and generally will be posted if they are on-topic and not abusive.
For more information, please see our Comments FAQ